I have a new crush: Adam van Koeverden. He was the flag bearer for the Canadian team at the opening ceremonies for the Beijing games and has recently won a silver medal in flat water kayaking in these Olympics, which he can add to his gold and bronze from Athens. He is super talented and hard-working and blah, blah, blah… dude is hot.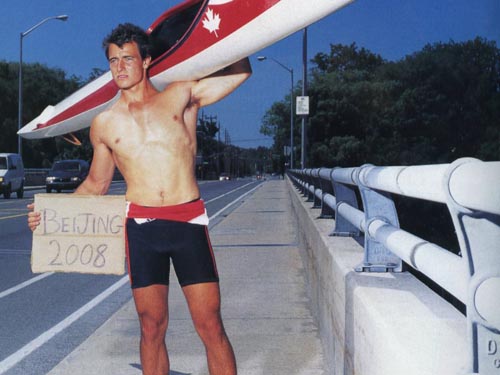 Yum. Plus he seems like a cool guy, based on the interview I just watched of him hanging out with the CBC commentator after winning his latest medal. He is humble and grateful and well spoken. Plus I dig the smackdown he posted on his website where he comments on all the armchair critics complaining about Canada's performance at the games. So… people like me I guess. But he is totally right. We don't suck! Canada's athletes are awesome and it's not all about winning gold, it's about being good at what you do.  So us losers eating poutine while we bitch at people who use their bodies for something other than a garbage disposal unit can suck it. The most useful thing I ever did for my country was push for a paperless office at work. (Digression: the MUHC does not recycle! It's 2008 and they still don't recycle! My colleagues and I actually drop our recycling off in front of random houses so the city will pick it up. Shame on you MUHC, shame). Not that Olympic medals are useful but they do provide some sense of pride I guess… So congrats to the athletes who came in first, second, third and twenty-ninth. You all rock. I still don't care enough about sports to contribute to your cause financially but I encourage you to keep on keeping on.
Anyhoodle, the Olympics end on Sunday and for Canada they are already over since we have no one competing on the last day. But I am pleased to report that we did just fine. 18 medals may not sound like a lot but when you consider the population of our country we are perfectly… average. I even have the spreadsheets to prove it, courtesy of Kebes, who can always be counted on to overanalyse every situation and then create an algorithm to make his point. I will post the nifty graphs tomorrow, once the final medal tally is determined.
1 comment
1 Comment so far
Leave a comment